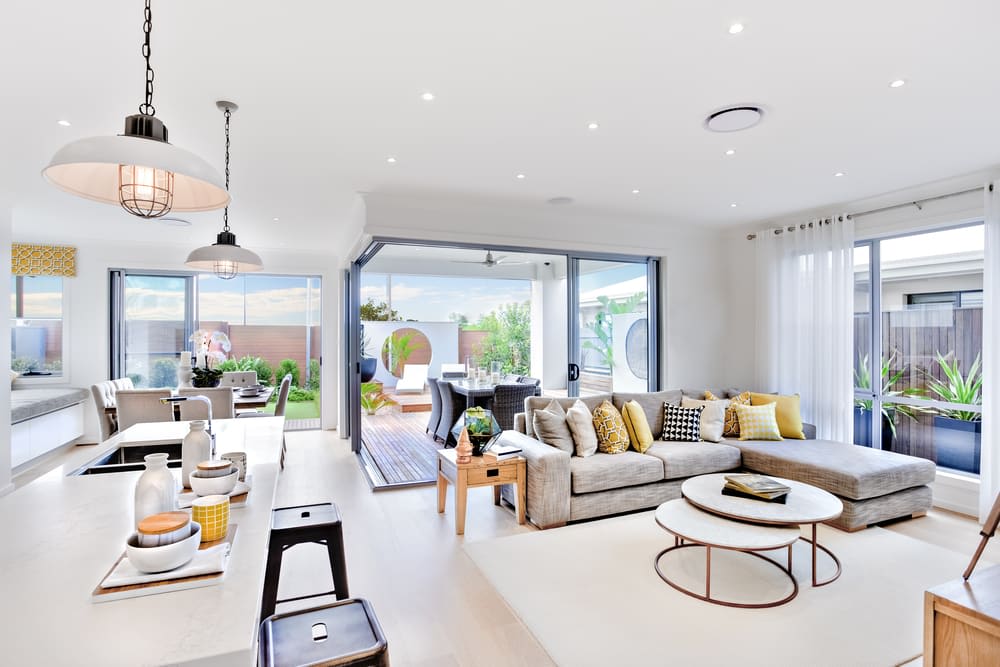 As the saying goes, you only get one chance to make a first impression. Never is this truer when it comes to selling your property and having prospective buyers round to view it. Viewing is arguably one of the most important stages of buying or selling a property. When you are a seller, this is your opportunity to really showcase your home and demonstrate exactly why it should be bought.
When it comes to marketing a home, home staging is something that any serious seller should consider. And professional home stagers know just how to show your home at its maximum potential, emphasize its strengths, and minimizes any weak areas. It will also show that your home is well cared for. Stylists will come into your home and optimize their appearance using furniture placement, mirrors, artwork, flowers, and more. Following this, you can have professional photographs taken which can be used to maximize the appeal of your home online – something which is essential for obtaining interest from buyers and securing viewings.
Studies have also found that home staging can:
Help your property to sell faster
Make it easier for buyers to visualize themselves in your home
Give you a head start on packing since you will need to remove many of the items from your property
Help you to secure higher offers and a better sale price for your home


Home staging by a professional costs money, but there is no reason why you can't do it yourself. With this in mind, here are our top tips for staging your own home.
Stage where it makes a difference
Not all rooms have the same impact when it comes to their potential to influence buyer's decisions. As such, if you have to limit which rooms you stage, it makes sense to focus on those where it will make a difference. Studies show that the rooms that hold the most important for buyers include the living room, master bedroom, bathroom, and kitchen.
Depersonalize your property
One of the main objectives of home staging is to help prospective buyers visualize themselves living in your property. This is very difficult to do when there are signs that another person or family still very much lives there. By depersonalizing your home, not only are you kickstarting the packing process, but you will also make it easier for people viewing your home to imagine themselves living there. Remove personal photographs and canvases, calendars, signs of achievement and anything stuck on your refrigerator like invitations or kid's artwork. It also helps to remove anything overtly religious.
Reduce clutter
Space sells, but it is impossible for prospective buyers to see how much your property has when it is covered in clutter. It can be very hard to throw things away, particularly when they hold sentimental value. Fortunately, you don't necessarily need to consign your clutter to the garbage – although many people like to use the opportunity to have a clear out of any unnecessary belongings. Anything you can't bear to part with can simply go into storage ready for when you move home. Nevertheless, getting rid of clutter will maximize the potential and appeal of your home.
Create light
Another easy way to create the impression of space is to let as much light into your property as possible. Dark rooms look gloomy, sad, and small. Open up all blinds and curtains and turn on every light in your property when it comes to photographs and viewings. This makes your home look brighter, lighter, and more welcoming.
Clean, clean and clean some more
Your home may be the clean day today, but is it property-sale clean? Chances are, probably not. Prospective buyers look for homes that take cleanliness to the next level. A squeaky clean home shows that the current owners take pride in their property and make the effort to take very good care of it. If you don't fancy undertaking a massive spring clean yourself, you can hire professionals to do a deep clean of your home on your behalf.
Check your curb appeal
First impressions start before prospective buyers even step through the front door. The curb appeal of your property is crucial and should be one of your first priorities. Make sure the frontage of your property is clean and tidy, remove any clutter, and be sure that your house name or number is visible. Cut back any overhanging trees or plants and consider power-washing pathways and driveways so that they gleam. Lighting is also important. People want to feel safe when they walk up to a property. Install some lights if you don't have any, and if you do, make sure that they are working well.
If you are selling your home and would like to learn more about home staging, our real estate team would be delighted to help. Please don't hesitate to get in touch.